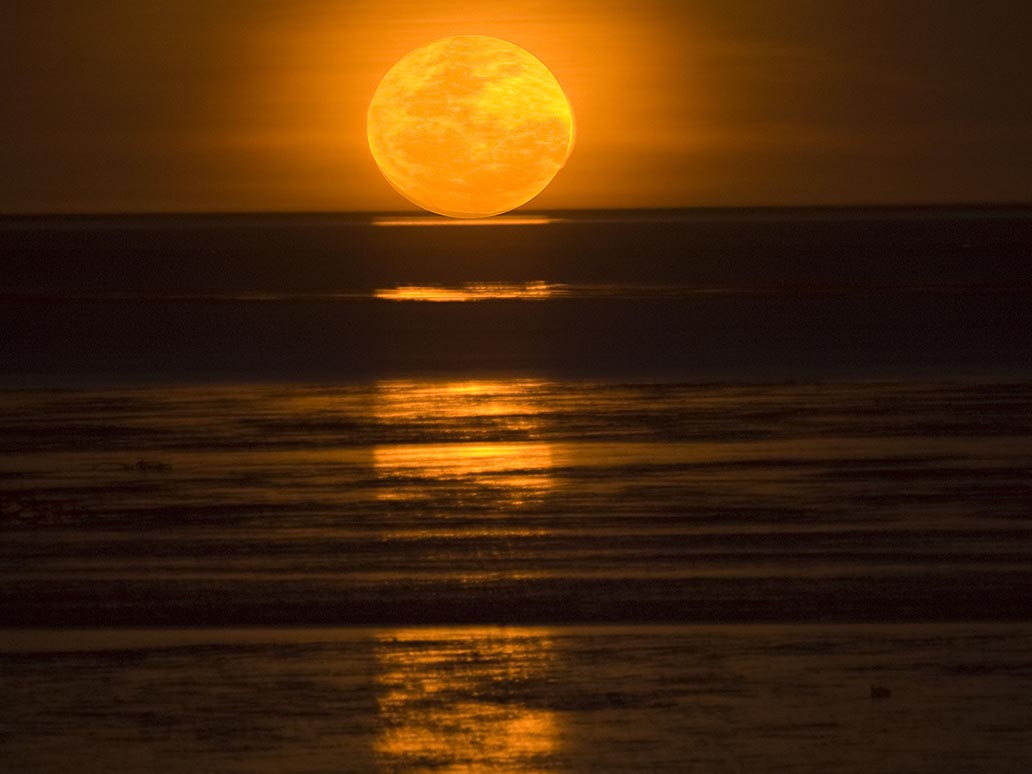 Staircase to Moon is a natural phenomenon best witnessed in Roebuck Bay, Broome.
The experience usually occurs over 3 nights on a full moon, between March and November. As the full moon 'rises' from below the horizon it's brightness reflects on the exposed extremely low-tide mudflats creating an illusion of a 'staircase to the moon'.
During the event periods Night Markets are held at Town Beach. Guests staying along Roebuck Bay at Mangrove Hotel and Moonlight Bay Suites are in the prime position. A new lookout, built in 2019, provides a great viewing location from Chinatown for a small group. It is recommended to arrive in your preferred location early and secure the best vantage point.
If you're planning a Broome holiday in 2021 we suggest timing your getaway with Staircase to the Moon. Here are the dates:
March 
Full moon Mon 29th 2.48am. Sunset 5.54pm
6.32pm Mon 29th, 7.16pm Tues 30th, 8.03pm Wed 31st
April 
Full moon Tues 27th 11.31am. Sunset 5.33pm
5.50pm Tues 27th (17 minutes after sunset. Could be too bright)
6.40pm Wed 28th, 7.34pm Thur 29th
May 
Full moon Wed 26th 7.14pm. Sunset 5.22pm
6.13pm Thur 27th, 7.15pm Fri 28th, 8.19pm Sat 29th
June 
Full moon Fri 25th 2.40am. Sunset 5.25pm
5.58pm Fri 25th, 7.03pm Sat 26th, 8.06pm Sun 27th
July 
Full moon Sat 24th 10.37am. Sunset 5.34pm
5.47pm Sat 24th (13 minutes after sunset. Could be too bright)
6.49pm Sun 25th, 7.48pm Mon 26th
August 
Full moon Sun 22nd 8.02pm. Sunset 5.42pm
6.30pm Mon 23rd, 7.24pm Tue 24th, 8.15pm Wed 25th
September 
Full moon Tues 21st 7.55am. Sunset 5.46pm
6.06pm Tues 21st (20 minutes after sunset. Perfect)
6.56pm Wed 22nd, 7.46pm Thur 23rd
October 
Full moon Wed 20th 10.57pm. Sunset 5.51pm
6.29pm Thu 21st, 7.19pm Fri 22nd, 8.10pm Sat 23rd
November 
Full moon Fri 19th 4.58pm. Sunset 6.06pm
6.57pm Sat 20th, 7.49pm Sun 21st, 8.41pm Mon 22nd
Stairway to the Moon 2021 dates with 3 nights of moon-rise times for Broome supplied with thanks by Greg Quicke from Astro Tours. The experience is a natural occurrence, out of our control, therefore subject to other weather conditions, i.e. clouds can affect the phenomenon.
BKB Holidays is a destination specialist and can assist with planning your perfect getaway including Broome accommodation, tours, transport and airfares.
4