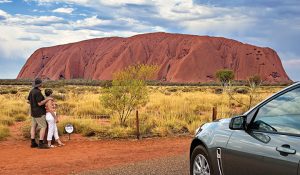 About Uluru

Traditional owners
The local Anangu people became legal owners of the region in 1985. The name changed from Ayers Rock to Uluru to acknowledge the Aboriginal name. The titles changed in 2002.
How high is Uluru?
Uluru is approximately 348 metres. Higher than most famous world buildings, including the Eiffel Tower in Paris.
The diameter of Uluru
Uluru is 3.6 kilometres long and 1.9 kilometres wide. It can take 3.5 hours to walk around this amazing monolith, and take in the surrounding landscapes.
How deep does Uluru go?
Just like an iceberg, this monolith is bigger underground than it is on the surface. Imagine this – the monolith extends 2.4 kilometres underground. Millions of years of surface erosion is the reason we can see the the rock as it is today.
A UNESCO World Heritage Site
In 1987, Uluru was added to the UNESCO World Heritage List. In 1997, UNISCO added a second listing due to its significance to the Aboriginal people. When you visit Uluru, just breathe, absorb its spiritual environment, and take in the peace and quiet of this land. Take time to learn from the locals, and most of all, please respect this fragile area.
Uluru Accommodation and Tours
To ensure you have the best experience of Uluru, BKB Holidays can help you plan a trip to remember. We can book your Uluru accommodation and present some amazing Uluru day tours, or an extended tour that will leave you in awe of this location.

To see Uluru contact BKB Holidays –
Agent Priority Phone - (08) 6382 2166
General Public Phone - 1300 357 057
www.bkbholidays.com
4