WESTERN AUSTRALIA | BKB Holidays
A diverse range of products and packages are available to assist with planning your next holiday.
You will find accommodation options, day trips, extended tours, rail and cruising. We have included a specialised area full of itineraries for those travellers wanting to self-drive and stay in accommodation along the way. If it is not in our brochure, it does not mean we can't do it – call us on 1300 357 057 to create a package that is perfect for you.
Click here to view the 2022-23 brochure on-line.
NORTHERN TERRITORY & SOUTH AUSTRALIA | BKB Holidays
From the hustle and bustle of Adelaide city, to the world renowned wine region of the Barossa Valley and the stunning Adelaide Hills, South Australia has it all. It's all waiting for you.
Take the exquisite Ghan rail journey from Adelaide to Alice Springs and then onto Darwin. The red centre and the Northern Territory awaits your discovery. From breathless scenery to learning about ancient culture, to relaxing evenings. Then up and about as Darwin is the starting point for a range of fantastic touring options. Only 2 hours drive east of Darwin, Kakadu National Park is one of Australia's most prized landscapes and is a must for any visitor to The Top End.
To the east of Darwin, lies Litchfield National Park and Katherine, renowned for their gorges, brilliant waterfalls, and amazing termite mounds. Arnhem Land is a journey of the spirit for those wishing to learn more about Aboriginal art and culture.
Click here to view the 2022-23 brochure on-line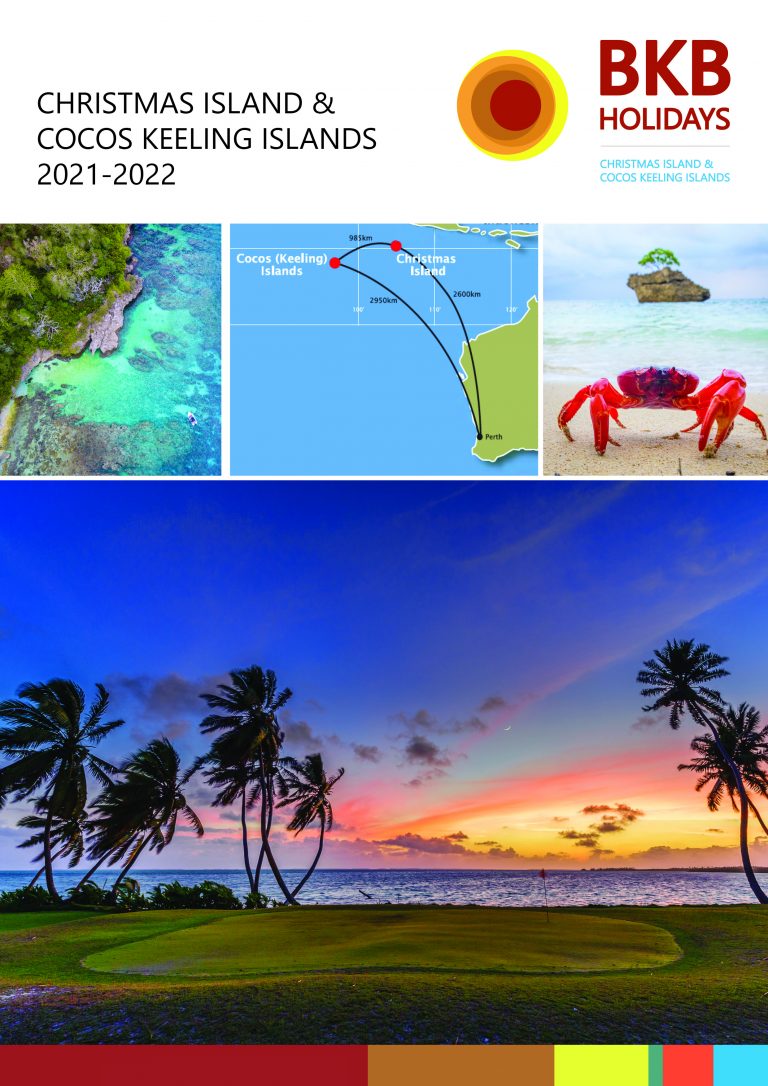 CHRISTMAS ISLAND & COCOS KEELING ISLANDS | BKB Holidays
The divine Indian Ocean is home to the Australian Territories of Christmas Island and Cocos Keeling Islands.
Both are unique in their offerings and characteristics, with prolific marine and wildlife. Christmas Island is home to the many crab varieties, the most well-known being the red crab. Just watch out for those cheeky robber crabs! Cocos Keeling Islands is an under-water haven for snorkellers and divers alike. An array of tropical fish, manta rays, reef sharks, dolphins and many-many turtles calling the islands their home.
Click here to view the 2021-22 brochure on-line.
TASMANIA | BKB Holidays
A destination with an amazing array of natural wonders and holiday experiences for all ages.
Offering a selection of packages from self-drive holidays, guided walking holidays and short-breaks, the inaugural brochure will be a key tool for Australian retail agents, and their customers. Featuring a 3 night Launceston getaway including accommodation plus a winery experience from just $399 per person, twin share.
Click here to view the 2021-22 brochure on-line.