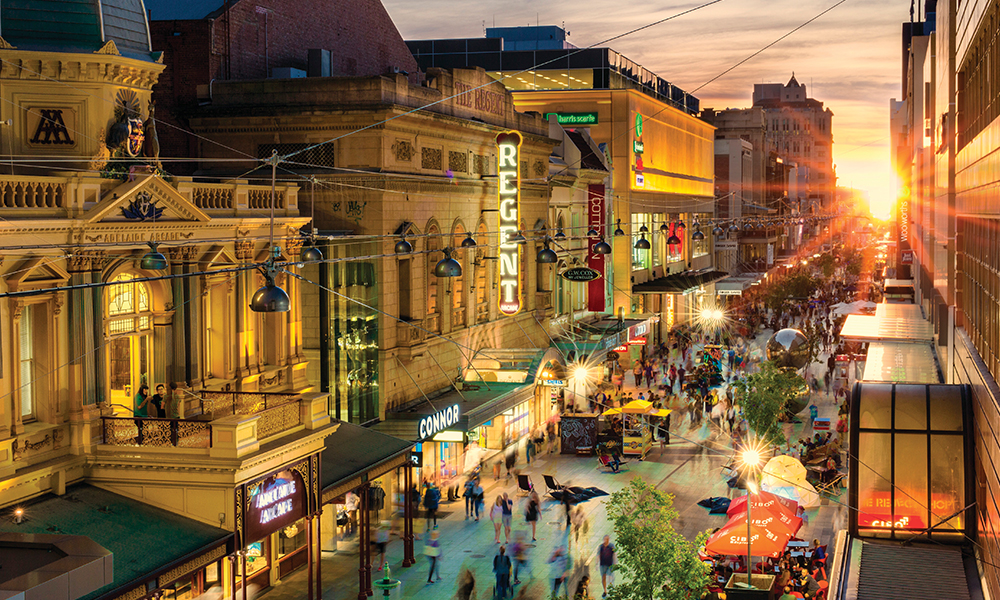 With year-round great weather, plenty of green space and a thriving café culture, Adelaide is designed to be explored.
Better yet, the scenic Adelaide Hills and South Australia's world renowned wine regions are only a stone's throw from the city, making it an easy destination to visit for those with only a week to spare.
Stroll through Adelaide Central Market
A food-lover's paradise, Adelaide Central Market in the beating heart of the CBD has something for everyone. Stock up on gourmet meats and cheeses, fresh fruits, sample artisan bread or enjoy a coffee and a casual lunch in the buzzing food court.
Take a day trip to Hahndorf
Only 30 minutes drive from central Adelaide, Hahndorf is a charming German-themed town dotted with gift stores, boutique food producers and German restaurants. Stay for lunch and enjoy a Bratwurst or an authentic apple strudel. If you'd prefer to let someone else do the driving, book our half-day Adelaide Hills and Hahndorf Tour from just $154 per person.
See Historic Adelaide Stadium
Step across the river Torrens via footbridge to Adelaide Oval, an iconic stadium with a rich sporting history. Book onto a Adelaide City Highlights and Stadium Tour to experience exclusive behind closed doors access to this world-class venue.
Visit Adelaide's botanical gardens
Only a short stroll from the CBD, Adelaide' sprawling Botanical Gardens are among the most impressive in Australia. Spanning 51 hectares and boasting a collection of exotic plants and historic pavilions, from the photo-worthy cactus and succulent garden to the indoor tropical tree fern sanctuary.
Visit the wine regions
If you'd like to venture a little further, hire a car and explore South Australia's world class wine regions - Barossa Valley, Clare Valley and McLaren Vale are among the most popular for their Shiraz and Cabernet Sauvignon varieties. All an easy drive from Adelaide, stay a couple of nights and make the most of these scenic regions.
Discover the Murray River Region
If you've always wanted to step aboard an authentic Paddlewheeler, this is the place to do it! The Murray Princess is the southern hemisphere's largest inland Paddlewheeler, experience its elegance and comfort on an unforgettable cruise along the mighty Murray. 3 night cruises onboard the Murray Princess start from $1,199 per person.
Explore Kangaroo Island
If you have more time to spend in SA, a trip to Kangaroo Island is surely on the hit-list. Accessible by a short ferry ride from Cape Jervis or a flight from Adelaide, the island is famous for being home to stunning untouched beaches and gourmet food and wine. It's also a destination for spotting diverse wildlife and rugged landscapes. If you'd prefer to let someone else do the organising for you, we have a range of 1 and 2 day Kangaroo Island tours available to suit you.
To find out more about Adelaide and South Australia holiday packages, from hotels to tours and car hire, we can find something to suit you. Contact BKB Holidays on 1300 357 057.
4